Zaridozi | Embroidered journal with hemp paper, encased in a copper and glass shadow box, A5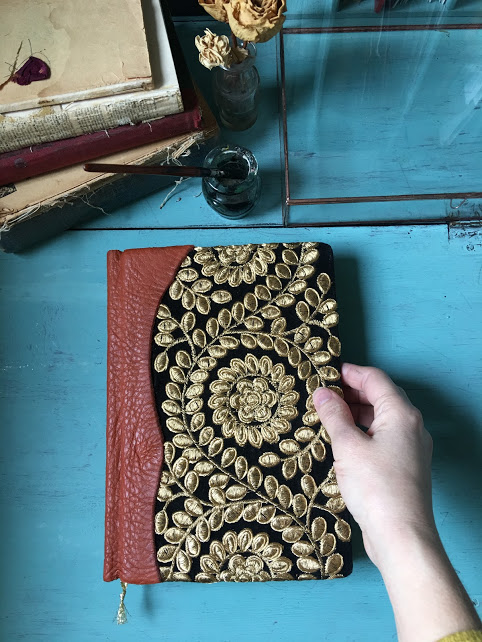 Zaridozi | Embroidered journal with hemp paper, encased in a copper and glass shadow box, A5
One-of-a-kind hand bound journal featuring beautiful Zaridozi embroidered velvet and reclaimed vegetable tanned British leather on the spine. Hand bound with handmade 100% eco-friendly hemp paper for writing or artwork. The charcoal black endpapers inside have a hand painted foliage design front and back, painted in gold gouache.
A truly luxe and beautifully unique journal encased in a copper and glass shadow box to display when not in use.
SIZE
Book: 15.5cm wide x 22.5cm tall x 4cm thick.
Box: 16.5cm x 24cm x 5.5cm
•Suitable to use with alcohol free pens, calligraphy ink, gouache, pencils and technical pens.
DETAILS
•Hardback cover with black velvet and gold thread embroidery.
•Hand bound to open flat making it easy to write, draw or paint in.
•160 hand torn pages [320 sides] of 100gsm, acid-free hemp paper in a natural shade with a slight texture.
•Bookmark
•Tied with black reclaimed leather.
•Packaged in a gift box.
sold out